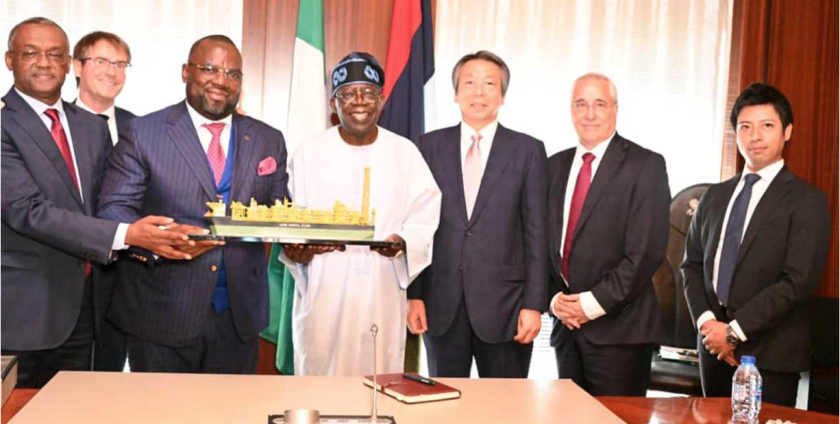 Amid high cost of fuel in the country, UTM FLNG, a Nigerian gas company, has concluded plans to set up the first Floating Liquefied Natural Gas (FLNG) facility in Nigeria and the very first developed by an indigenous private African company.
The FLNG will, among other things, boost production and crash the cost of gas for domestic, auto, and industrial use in the country. The facility also aims to leapfrog the national economy by producing an annual 1.5 million tonnes of Liquefied Natural Gas (LNG) for export as well as 300,000 LPG metric tonnes for domestic markets, aimed at lowering and stabilizing prices of gas, while creating thousands of jobs and investment opportunities in Nigeria.
Group Managing Director of UTM FLNG, Dr. Julius Rone, stated this after a crucial economy and investment-driven meeting with President Bola Ahmed Tinubu at the Presidential Villa, Abuja, yesterday. Rone, who said he was at the Villa to brief the President on the import of the facility, noted that the initiative will serve as a legacy project under the Tinubu administration, in the quest to revitalize the nation's economy, rejuvenate the productive sector and create jobs and investment opportunities, while saving millions of Nigerians from the hazards of environmental pollution.
The UTM boss, who said he had a very fruitful discussion with President Tinubu, applauded the President for his strategic policies, commitment, and efforts toward stimulating the economy, a disposition he said further motivated the company in its drive to establish the facility in the country. He explained that the FLNG facility will be anchored offshore in Akwa Ibom State in about 60m water depth.
Rone said: "We believe the project is coming at the right time, in line with your Renewed Hope agenda of leapfrogging Nigeria's socio-economic development by sustainably developing our enormous gas resources. "When completed in Q4 2026, the facility will produce on an annual basis, 1.5 million tonnes of LNG for export, 300,000 metric tonnes of LPG for domestic market (DLPG) and some quantities of condensate.
"300,000 metric tonnes of LPG production, which will be dedicated to the domestic market (DLPG), represents 25 per cent of national demand and will go a long way at stabilizing the price of cooking gas, in addition to its possible use for auto gas and other industrial purposes, among others. Moreover, about 3,000 direct jobs and 4,000 indirect jobs will be generated, in addition to value creation along the LPG supply chain. "Also, LPG addresses deforestation and helps reduce the mortality rate of our womenfolk as a result of smoke inhalation from the use of firewood. By eliminating flaring of associated gas, Nigeria can meet its climate change goals, and this project is one such enabler."
He commended the Tinubu administration for its commitment in providing access to clean, accessible, affordable, available, and abundant energy for all Nigerians and reiterated UTM's commitment to partner the Federal Government in realizing this agenda. According to Rone, Afreximbank is facilitating financing of the project with financial closure envisaged for Q4 2023.
UTM FLNG Limited, a subsidiary of UTM Offshore Ltd, is a Special Purpose Vehicle created to actualize the project.
By:UTM OFFSHORE
0 comment